Human rights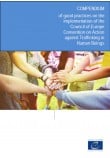 Compendium of good practices on the implementation of the Council of Europe Convention on Action against Trafficking in Human Beings (2016)
REF. CompendiumTrafficking
Type of document : Document
Format : PDF
Size : 578 KB
Language : English
Number of pages : 30
Trafficking in human beings is a violation of human rights and an offence to the dignity and integrity of the human being.

The Council of Europe Convention on Action against Trafficking in Human Beings was adopted by the Committee of Ministers of the Council of Europe on 3 May 2005, and entered into force on 1 February 2008. While building on existing international instruments, the Convention goes beyond the minimum standards agreed upon in them and strengthens the protection afforded to victims.

The Convention has a monitoring system set up to supervise the implementation of the obligations contained in it, which consists of two pillars: the Group of Experts on Action against Trafficking in Human Beings (GRETA) and the Committee of the Parties.
Introduction
Chapter One - Prevention
1.1 Data collection and research
1.2 Measures to raise awareness of human trafficking
1.3 Targeted prevention for vulnerable groups
1.4 Measures to discourage demand
1.5 Measures to prevent trafficking for the purpose of labour exploitation
1.6 Training
Chapter Two - Protection of victims' rights
2.1. Identification of victims
2.2. Assistance measures
2.3. Recovery and reflection period
2.4. Residence permit
2.5. Compensation
2.6. Repatriation and return
Chapter Three - Prosecution
3.1. Investigation, prosecution and convictions
3.2. Victim and witness protection
3.3. Non-punishment provision
Chapter Four - Partnerships
4.1 National co-ordination
4.2 International co-operation
Concluding remarks